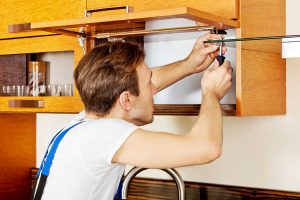 With such a high cost and large time commitment, many homeowners find remodeling projects daunting. The kitchen is especially difficult since it's one of the most frequented rooms in the house, and you'll have the challenge of preparing food, making beverages and dining throughout the improvement and construction process.
The good news is that you can completely revamp your kitchen simply by changing the look of its cabinets, and there are simple ways to get them looking great without investing in a ton of time.
Check Out These Ideas for Remodeling Old Kitchen Cabinets
1. Add more cabinets.
Perhaps your cabinets already look great. What more could you do? Installing more cabinets can both increase your storage space and make your kitchen more aesthetically pleasing. A whole wall of custom cabinetry would be one of the first things that people will notice when they walk in the kitchen, and they will make organizing all your extra supplies and appliances a breeze.
2. Paint the cabinets a new color or gel stain them.
Painting or gel staining kitchen cabinets is something that anybody can do, and it's not expensive to get the necessary materials. The entire kitchen can be completed in one day, and it will drastically improve the way the entire room looks. All it takes is a fresh coat in a refreshing color that goes well with the feel of your home.
3. Replace the old cabinet hardware.
The cabinet handles, the drawer knobs, and any other minor accessories like these may get worn out over time or simply look outdated as time goes on and new fads come up. Replacing these is simple, easy, and very affordable. Any hardware store will have shiny, brand-new knobs and accessories in a variety of styles, and you can even get more eccentric ones online. 
4. Replace the cabinet doors.
Replacing the cabinet doors  is an inexpensive way to change their look without having to actually replace the entire cabinets themselves. While investing in custom cabinetry may be a larger investment, leaving the existing structure and swapping out the doors alone is far more affordable. All you have to do is find a set that will fit the correct measurements.
5. Add glass doors to the cabinets.
It's quite possible to invest in new glass cabinet doors or even have your existing doors fitted with glass panels. It will be easier to see what's inside the cabinets, and you'll enjoy a classy look. There are many different types of styles that can be used if you want to venture into colored, mosaic or textured glass over the solid, plain panels.
6. Install lights underneath the cabinets.
Need an entirely new ambiance in your kitchen? Try installing basic soft white lights or even an LED strip underneath the cabinets to shine down on your cookie jars and spice racks. Colored lights may even be an option to create the right look for your kitchen's theme.
7. Remove the cabinet doors entirely.
Looking for something a little out there and most definitely trendy? Contrary to popular design, kitchen cabinets do not have to have doors on them. Open or partially open cabinets are functional and provide the room with an interesting look. Your own dishware can even become part of the room's aesthetic if they're matching and strategically placed.
Installing additional cabinets is something that a homeowner may need the help of a professional with. Most people can probably paint their own cabinets or replace the handles themselves, but installing something large and complex like an entire set of new cabinets is going to require the help of a professional. Those who are thinking about installing more cabinetry in Las Vegas should call Copper Creek Construction; this is one of Nevada's most trusted companies when it comes to all aspects of kitchen remodeling.