Emergency Services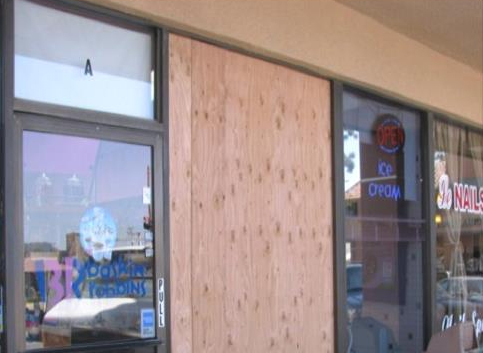 Emergency Service 1st Responders 
24 Hours a Day, 7 Days a Week, 365 Days a Year
When you are caught in an emergency situation, sometimes you need small service to keep business, or home life, running smooth. That's when Copper Creek Construction can help you get the emergency service you need, and a future plan to repair, or rebuild. In short, we come to your rescue, and then help you pick up where you left off.
Call 24/7 for Emergency Service
(702) 898-7873
Board-Up Services
Storefronts • Broken Glass • Floods
Emergency property repair and boarding up services are often a small, insurance reimbursable service we perform at all hours of the day and night. Copper Creek Construction can assist in board-up services for any reason to ensure your business or residence remain secure until full property repairs can be made.
Board Up Services For
Fire Damage
Water Damage & Floods
Weather Damage
Vandalism
Vehicle Crashes
Boarded Up Home
Boarded Up Store Front
When your residential or commercial property has been damaged, and you need an emergency service to temporarily repairs, Copper Creek Construction is the only company you need to call. We work directly with your insurance company to ensure that you don't pay out of pocket for repairs to your home or business. Our services are top quality and our customer service is beyond compare. You are sure to see why we are the only construction company you need to call.
Board Up & Emergency Services Include
Broken Glass Removal
Replacement of Windows & Doors
Tarp and Tar Roof Damage
Water Removal
Debris Removal
Water/Flood Extraction Service
Call Now for Emergency Service (702) 898-7873
---
Committed to Excellence
With an average response time of less than an hour, we are here when you need us most. In the middle of the night, on holidays, even when you are sleeping, our crews are ready to come to you, 24 hours a day, 7 days a week. Working with Copper Creek Construction is truly a beneficial experience for homeowners that want to get work completed, without the hassle.
Providing Peace of Mind Since 1998
Since 1998, Copper Creek Construction's experience and services have provided our customers peace of mind. Trusting your property is secure provides the time and energy needed to handle the many other important factors of a loss.